Guruvayur is a city in South India, known for its temple and main deity Guruvayurappan (form of Lord Krishna). Millions of devotees come to pray in this temple. A special mention to an elephant called Guruvayur Kesavan who was an ardent devotee of Guruvayurappan.
Kesavan was conferred the unique title "Gajarajan" (Elephant King), by the Guruvayur Devaswom.
Gajarajan Guruvayur Kesavan is perhaps the most famous and celebrated elephant in Kerala, Southern India. Kesavan was donated to the Guruvayur temple by the royal family of Nilambur in 1916. It is a common Hindu custom in Kerala to donate elephants to the deity of the temple as an offering. Guruvayur temple has very good facilities at Punnathurkotta to maintain all of these elephants.
Standing over 3.2 meters tall, Kesavan was known for his devout behavior. Kesavan died on December 2, 1976 aged 72, which happened to be Guruvayur Ekadasi, considered a very auspicious day (11th day after full / new moon). Generally devotees observe fasting on Ekadashi day. Kesavan fasted for the entire day and dropped down facing the direction of the temple with his trunk raised as a mark of prostration. The anniversary of his death is still celebrated in Guruvayur. Many elephants line up before the statue and the chief elephant garlands it.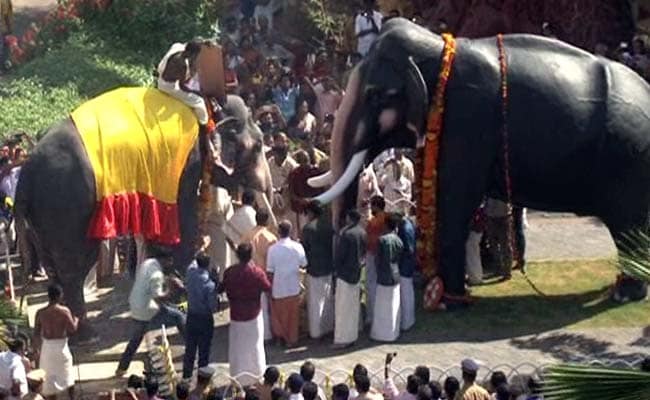 The temple erected a life-size statue of Kesavan (picture above) in its precincts as tribute to the services he rendered to the presiding deity of the temple. Its tusks, along with a majestic portrait of the elephant, can be still seen adorning the entrance to the main temple enclosure.
Interestingly, a movie was made in honor of the elephant sharing his story as well.
Bhakti (Devotion) does not stop with human beings. When animals start exhibiting bhakti, their lives becomes examples for many.
Of the nine types of Bhakti (devotion), can relate to all aspects of bhakti exhibited by Kesavan 🙏🏻
(1) śravaṇa (listening to ancient texts), (2) kīrtana (praying), (3) smaraṇa (remembering teachings in ancient texts), (4) pāda-sevana (service to the feet), (5) archana (worshiping), (6) namaskar or vandana (bowing to the divine), (7) dāsya (service to the divine), (8) sākhyatva (friendship with the divine), and (9) ātma-nivedana (self-surrender to the divine)
It is an honor to learn & share Kesavan's story remembering him & his devotion to Guruvayurappan (Krishna) on his 25th anniversary after reaching the heavenly abode 🙏🏻
Sarvam Krishnarpanamastu 🙏🏻